WeChat is now the most popular topic on Computers Made Simple. Check out the comments at the bottom of this post: Weixin/WeChat – Shake your way to new friends, and you'll see what we mean. People all over the world are using this free and fun app to meet and greet other users.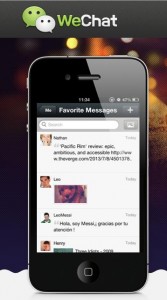 WeChat is not without its problems, however. If you look at the comments from our readers, you'd think that WeChat is more of a problem than a solution. That's not the case but, on the other hand, the makers of this app have not responded to our repeated requests for their input into the bugs. On yet another hand, WeChat is totally free. Because of that, users really can't complain too much.
App software is a relatively new phenomenon, one that doesn't require much or any cash input from users. These apps are usually platforms for ads. Some of them, ones such as WeChat which attract younger users looking to meet users of the opposite sex, are wide open to misuse and abuse. Some of the bugs that crop up may be the result of hackers who have found a way to manipulate the software or its servers for their own gain.  Also, we suspect that some governments in the world would rather not have their citizens using such an app.
Because of all of this, we're here to say, "Enjoy it for what it is. Don't take it too seriously and, lastly, if WeChat is the only way someone can meet other people, maybe they should take a break."
If you're shelling out your hard earned money for something, you have a right to gripe when it doesn't work. WeChat usually does what it says it will do and is our current choice for keeping in touch with friends from around the world. Why? Simply because it offers so much for so little, nothing as a matter of fact. Chatting, sharing photos and videos, voice messaging, searching for other users, video conferencing, voice chats, well, you get the picture. If it doesn't work perfectly when we're looking for other users, no big deal. When it does, it's fun. When it doesn't, we do something else.
Finally, we know that this kind of app is addicting. Angry Birds is addicting too but in a different way. WeChat has opened up the world by allowing its users to find, communicate and add friends from just about anywhere. On top of that, WeChat lets you do this in a very unique, fun way. In the same way that Angry Birds was addicting because it was new, WeChat is very similar but the addiction comes not from knocking over pig's homes but from maybe meeting the right girl or guy who could possibly change your life. Let's call it a digital single's bar.
Questions about WeChat or any other topic are the lifeblood of Computers Made Simple. We can't always help but we do our best.
Thanks for reading!