It's frustrating when you plug in your Nexus 5 to a Windows 8.1 PC and nothing happens. Windows doesn't see your Nexus 5 at all, it seems. Here's the solution:
1. Put simply, Windows uses the wrong driver for your Nexus 5. For some reason, Windows assumes the phone is an Acer so it uses an Acer driver.  Your Nexus 5 requires an MTP driver in order for Windows to recognize it as a storage device.
2. Make sure your Nexus 5 is set to connect via USB to a computer as a storage device, not a camera. Follow the steps: Settings then Storage then up to the top and press the three dots on the top right and choose: USB connection. Make sure that the top one, Media device, is checked.
3. Connect your Nexus 5 to your PC via the supplied USB cable.
4. If, by chance, your PC sees the Nexus as a storage device, Windows File Explorer will open. If not, and this is normal, it will see your Nexus 5 as a media player only. Open your Control Panel. (Either search for it using the icon on the top right or look for Control Panel on the Windows 8 app screen.)
5. Once your Control Panel is open, click on View devices. Look for your Nexus 5. It will look like this: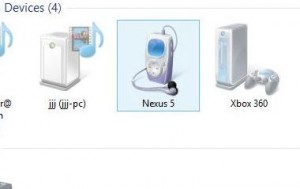 6. Right click the icon and choose Properties.
7. Click on the Hardware tab at the top and choose Properties again.
8. Click Change Settings on the next screen.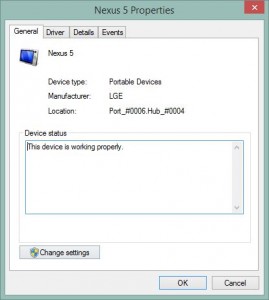 9. Choose the Driver tab at the top.
10. Choose Update Driver.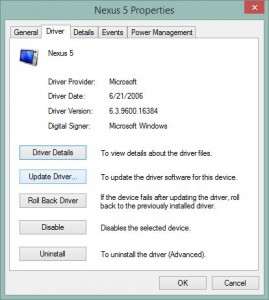 11. Choose 'Browse my computer for driver software'.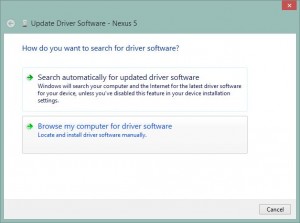 12. Choose 'Let me pick from a list….'.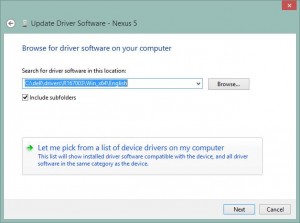 13, Choose MTP USB Device and click OK all the way back out.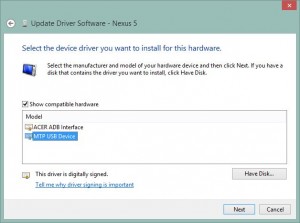 14, Open Windows File Explorer if a file window doesn't immediately open and look for your Nexus 5 on the left side.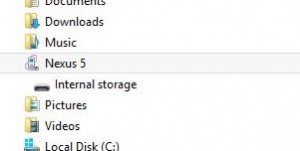 15 Double click it to view its files.
You should only have to do this once but the settings may not take the first time. Alternatively, your PC may ask you to reboot. Do that and attach your Nexus 5 after it's finished booting. You should be able to see the Nexus as a storage device.
That's it for today, thanks for reading! Comments and questions are welcome but  Likes on our Facebook page get immediate attention.  Here's the link: Computers Made Simple on Facebook .