This is the last in our series on routers. Today we'll connect an Xbox 360 to one of our PCs. We'll use Windows Media Center to do that. NOTE: You can only do this for free if you are using Windows 7. Microsoft in all of its brilliance has made WMC an extra-cost item for Windows 8. If you are using Windows 8, stay tuned for our XBMC solution for it. Today we are talking only about Windows 7 and Vista only.
TIP: Why are we stuck on the Xbox? We aren't, not at all. For most of our gaming and entertainment we use the Sony PS3/PS4. Microsoft has made everything extra-cost, including Netflix, while Sony has left its PS line of consoles wide open as far as Netflix and other apps go. The big difference is live TV. There are ways to steam live TV to a PS3 but it's much easier with the Xbox using Media Center. You still have to jump through some hoops but, in general, it's easier to set things up on an Xbox 360. We will not be purchasing an Xbox Live but we assume that everything will be pretty much the same on it, except for the lack of a free version of Media Center with Windows 8.
Setting up your network: We know. You're saying, "Didn't we just do that?" Yes you did but you have to make sure of one more thing. Even though all of your computers and game consoles are on the same home network, you must make sure that your Xbox and the PC you are going to use to stream HDTV/video from are connected to the same 'node'. We mentioned this before but this is vital to the success of your setup. Connect your streaming PC directly to the same router that your Xbox is using for its wireless signal.
1. Make sure that you have turned on Sharing in the Media Center on your PC. Decide what folders you want to share and what devices, too. We use a Hauppauge TV tuner which we had to set up in Media Center. It found the channels by itself and even gave us up-to-date programming information. Once your HDTV is working on Media Center, it's time to move to your Xbox.
2. Fire up your Xbox 360, log on to the Microsoft Network and scroll across the screen to My Video Apps. If you've never used WMC (Windows Media Center) before, you may have to download the app first. Click on it and the app will describe itself then give you a key, something like this: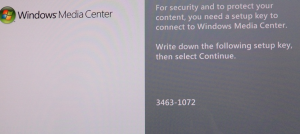 3. Go back to your PC, open Media Center and go down toTasks. Scroll across to 'add extender' and click on that. Like this: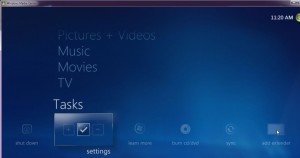 4. Once you click those words, WMC asks for the Xbox key that you wrote down previously. Enter that into the spaces and things should begin to happen. Once WMC finds your Xbox, it will start to communicate with it and set up all of the things it needs to work. Ours took a couple of tries but finally worked.
5. Head back to your Xbox and open WMC if it isn't already open. Everything that you shared on your PC should be available on your Xobx. Remember that you can't be watching HDTV in two places. If you are using your tuner on your PC, you can't use it on your Xbox. Click on Live TV and wait until your PC starts streaming your tuner output to the Xbox. Like magic, a crystal clear image should appear on your screen. Move your controller's center button up or down to change channels.
Yes, there are some steps that you'll have to figure out on your own but they are very intuitive, nothing difficult at all. Once you've got your new router setup, it's a snap, more or less, to get your PC and your Xbox to see each other. When it starts to work, you'll wonder why you didn't do this all before. We use the system for sports broadcasts. Instead of simply sitting around watching a game, we can enjoy the home gym we've added to the 'man cave' at the same time.
Thanks for reading! If any part of this seems obscure or difficult, let us know. Comment below or, better yet, Like us on Facebook and get all of our updates and tips. Here is the link: Computers Made Simple on Facebook
________________________________________
Here's a link that might help us if you are interested in hosting your own blog with Fatcow Hosting. We've signed up to become an affiliate and we make a bit of money if you sign up for hosting via this link:FatCow Hosting Thanks!