We've been avoiding this for a while but  it's probably time to do something about Windows 8. If you haven't guessed yet, we're not thrilled with it. Here's why:
1. We don't see why our email has to be tied to our Windows user account. (We thought this was a pain, and it is, but you don't have to use a password every time. You can use a four number PIN. More on that later.)
2. Where did the Start menu go? This is something that is just a bit too new for us. We've been faithful Windows users since the early '90s and the Start menu is ingrained in our brains! If we were just starting out on computers it might be different but we're not. Yes, there are third party apps to get the Start menu back but we don't think this is a wise idea. We'll muddle through and sort things out but, right now, this is a problem.
3. Because everything is in a different place, the average user feels lost and very frustrated. Yes, there are instructions as you start to use Windows 8 but taking the time to go through them, let alone remembering them all, is aggravating. For those of us who have the option, it seems better to stick with Windows 7. Sales of Windows 8 seem to reflect our opinion.
Over the next little while we'll be giving you some tips on Windows 8, little bits of hopefully helpful information that will smooth the transition from Windows 7. Today we'll show you how to get a PIN number to speed up your log-in routine.
1. Move your cursor (mouse) up to the top right corner of your monitor and let it rest there for a second or two. You should see these images appear on the right side of your screen: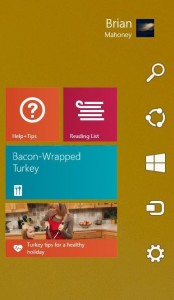 2. You want the gear setting on the bottom. Click it and you'll see this up next: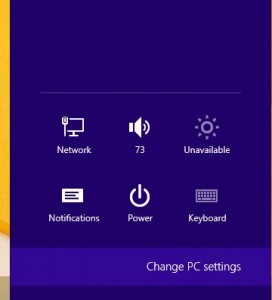 3. Next up comes this: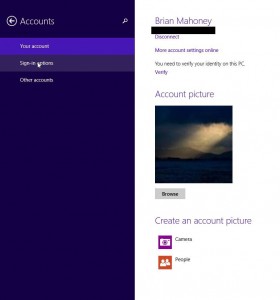 4. Once you get to this section, choose to add a four-digit number (a PIN). You'll be asked to enter your current password first. Once that is out of the way, enter your PIN twice and you're all set. Just don't forget it, OK?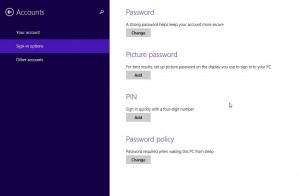 Now that you know your way around the Windows 8 screen a bit, why not experiment? We hope you've already upgraded to the free 8.1 version. That update is a bit more user friendly. It seems that Microsoft listened to the objections…finally.
Tell us what you think of Windows 8. Is it yay or nay with you? We'd love to know your thoughts. Comment below or give us a shout on your Facebook page. Here is the link:
Computers Made Simple on Facebook
Thanks for reading!