Facebook has had many privacy glitches in the past. We've just discovered another one, a fairly significant privacy breach that allows a new user to stalk a friend's friends. If you want to find out who is friends with one of your friends, even if their friend list is set to be seen by only the user, here's what you have to do:
1. Sign out of Facebook first, of course, then open a new account. We just did this and found that if we tried to sign up using Firefox, we needed a phone number to register for Facebook. Using Explorer, we didn't. While we don't generally recommend using Explorer, it seems that it's easier for this particular stealth operation.
2. Knowing that you are going to add one particular 'friend', try to use a name for your new profile that would seem attractive to that friend. Could be a sports star, could be a movie star, doesn't matter. The key is to get that friend to accept you as a friend.
3. Once you have the profile set up and have confirmed the registration email, invite your friend to be friends with you. This plan gets confusing if you have more than one friend but it's up to you how you handle it. You can always add a few friends then delete them but we're not sure this works.
4. We all know that Facebook is all about adding people as friends, they even suggest names for you. If you are a new user, guess who they use as suggestions? Right, people from your one and only friend. Once your friend confirms you as a friend, Facebook immediately suggests that you add every single friend that this person has, even if their friend list is set to the 'only me' privacy lock. 
Sometimes Facebook lists the friend as a 'mutual friend' with the person you are already friends with, other times they simply show the friend as a suggestion. The cool or uncool thing is, every one of that group of suggestions is a friend of your real friend. You can see how this would get confusing if you add a few people at once. Right now it works perfectly.
Here's how Facebook suggests friends:
In order to see the full list, click on 'See All' to bring up page after page of suggestions, depending on how many friends your single friend has. This is the full list: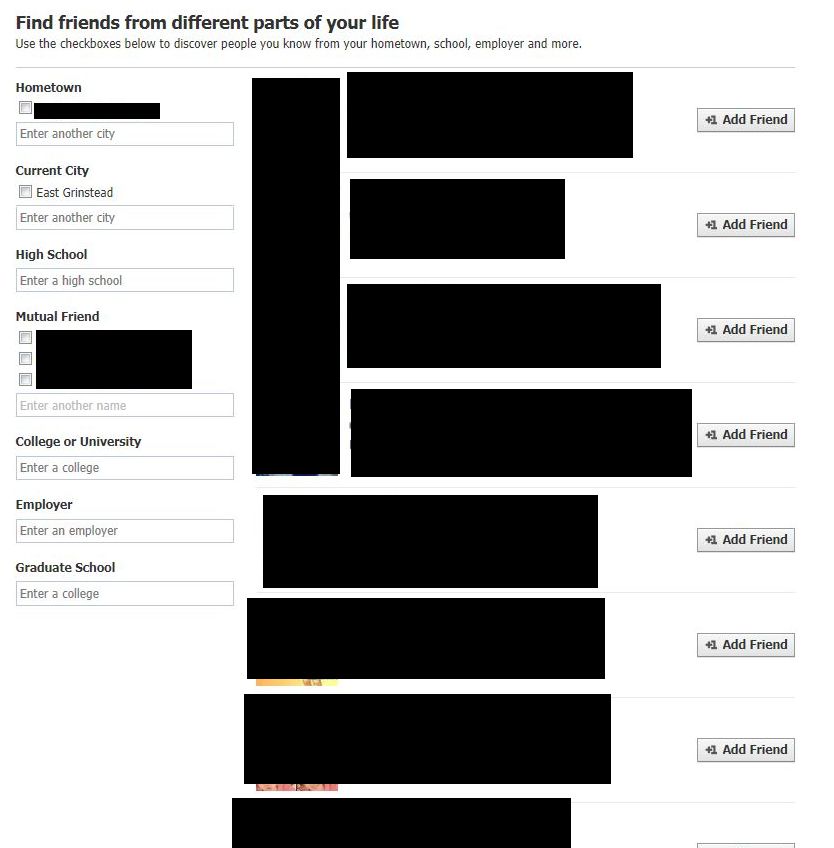 There you have it. Another glitch in Facebook's privacy settings, all ready to be used and abused by savvy Facebook users. We can't believe that this simple trick works, but it does. Imagine how this Facebook exploit could be used? Next to facepiles, we see this as the second biggest threat to your privacy on Facebook. We're outlining it here just in case Facebook hears about it and changes their policy. Who would dream that their locked down friend list could be wide open like this?
Thanks for reading! Comments and questions are welcome. Join us on Facebook by liking our page: https://www.facebook.com/ComputersMadeSimple?ref=hl