---
---
We've told you how to download music before using Freecorder. This is the link to that post:  Freecorder downloads videos and music.   In that process, you record the music from the video in real time. In other words, if the song/video is five minutes long, it takes you five minutes to download it. Here's another way to do the same thing but in much less time:
1. Go to Youtube (or any other video site that has music videos…except Myspace), and find the video(s) that you want to save to your computer.
2. You don't have to click on the video, just find a list of songs like this: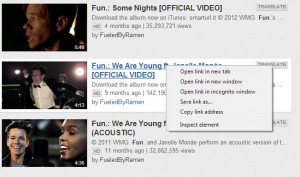 3. The link to the video is in the blue area, the hot link. All you have to do is right click, choose Copy link address. Do that then go to the next step.
4. Head over to http://offliberty.com/  . Off Liberty is a website that automatically saves any url that you give it. It will save a webpage or a video or music from that video. Here's what you see: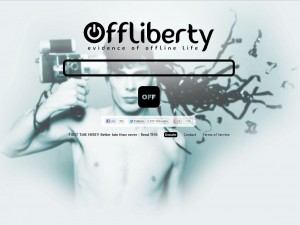 5. The link is pasted into the slot,  then you hit the word OFF. OffLiberty goes to the site and saves the video and audio that it finds. Let it do it's work and this is what you see: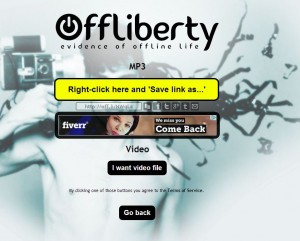 6. The instructions are quite simple. Again, we are right clicking on something and choosing from a menu. Right click the yellow box and choose 'Save link as…'. Here is the menu: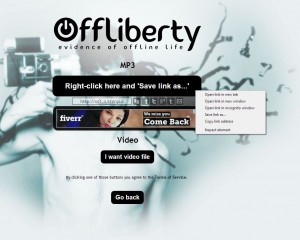 7. What you are doing here is saving the MP3 file, complete with whatever title the video had on Youtube. The file will be saved to your normal download folder. Just click OK and you've got the file on your computer. You can always rename it later, don't worry about. You can change it something that you will remember, as opposed to the title on Youtube.
There you go! Fast, relatively easy and totally safe. You'll never have to use a torrent or Peer to Peer site again. Let us know how this works for you, OK?
Thanks for reading!