TIP: Before we begin, don't even think about buying an E-reader. For the same money you can get a full-fledged tablet that will let you read books PLUS just about anything else you can do with a computer. So tablets only, no E-readers.
When tablets first came out, we thought they were a fad, let's say a flash in the pan. They were cute, small and not very powerful. As time went by, however, tablets grabbed their share of the marketplace. Although a tablet will never replace laptop or desktop computing, we've realized that they do have a place in our daily computing world. Here's why.
1. Instagram looks much better on a tablet than it does on a smart phone. That's number one for us. For some reason, Instagram looks better on our seven inch Samsung Galaxy tablet than on our slightly smaller Nexus 5. Photos seem to jump out from the screen making the viewing experience much nicer.
2. Reading books is much easier on a tablet than anything else we've tried, including the books themselves. First, tablets provide their own light. No min-booklight needed here. Second, a tablet is lighter than a hardcover book and much easier to handle than a paperback since there's no need to put your thumb in the middle to keep the pages open. Purists hate e-readers but we love them. Sure, we still have thousands of books but we try to read on our tablets whenever possible.
3. There's no lid. A laptop is great for portability when you need to do some real computing. A tablet, on the other hand, is much easier to start, usually has better battery life and can supply you with news, reading, games and video in a simple, easy to carry device. Almost all tablets come with Bluetooth so there's no need for a wired earphone set. Laptops don't usually come with Bluetooth, right? Plus there's that lid that gets in the way. When you're on Facebook or Instagram, how often do you use a keyboard anyway? As cell phones move away from keypads, we're all getting used to tapping out words on a touch screen.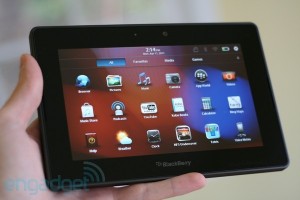 Before you buy a tablet, here are a few tips:
1. Get a brand name. Samsung, Apple, Dell, HP, they're all good. Don't go for a generic device, no matter how good the price is. You won't get support or updates or much of a warranty, in spite of what the store tells you. If the tablet is made and sold offshore, you're going to find a warranty useless. Stick with a company that stands behind what they sell.
2. We would suggest getting an Android device. Why? They're cheaper than Apple's iOs  models and have just as many apps available. Apple products have what's known as the 'Apple Tax' on them. You're paying more simply because they're made by Apple, not because they're any better. That goes for everything Apple makes.
3. It seems crazy that a tablet wouldn't come standard with WiFi but we've seen some out there that don't. You have to load the apps through a USB connection. Make sure that the model you're looking at has WiFi built into it. Don't simply assume that it does.
4. Make sure you can add extra storage via a flash card of some type. If you're traveling and want to watch a movie or two or three, you'll need a few extra gigs of storage. Our Samsung has a slot for a 32 gigabyte card, enough for many movies or a couple of seasons of a TV series. None of Apple's products come with this feature, just so you know.
5. You can get a very decent tablet for well under $200.00. We're not associated with Samsung in any way but we love our Tab 3 Lite. It's on its way out now but we've seen it on several sites for under $130.00. While it has only 8 gigs of storage, you can add up to 32 gigs via it's micro-SD slot. Here's how it looks: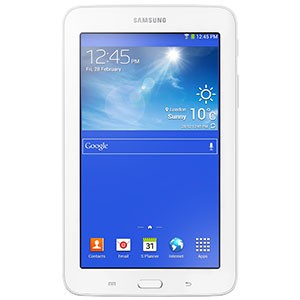 That's it for today, thanks for reading! Comments and questions are welcome but  Likes on our Facebook page get immediate attention.  Here's the link: Computers Made Simple on Facebook