This is part three of our series on buying a new laptop. We've already covered CPU comparisons as well as the meaning of the primary specifications that you'd see in a laptop ad. Today we're going to look at the secondary specs to give you some idea of what they mean. The big number, the price, is only one of the things you should look at. A low price does not always represent good value. Sometimes, spending just a bit more money can get you a lot more computing power. Here are the links to the previous posts on this topic:
How to Buy a Laptop – Comparing CPUs
How to Buy a Laptop – What do all these numbers mean? 
Take a look at this photo which compares three different laptops: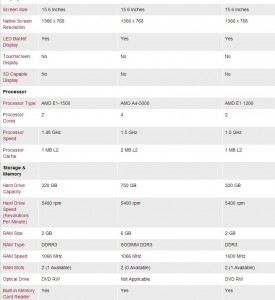 These specs apply to the laptops that we compared in our last two posts. The things to look at on this comparison, and almost all sites have a comparison setup like this, are these:
Native Screen Resolution – This is where a cheap screen will show up. All three have good resolution but if one had lower numbers, the display would not be as crisp as one with higher numbers.
LED Backlit Display – You should ONLY look at laptops with LED screens. If the spec says 'LCD', move on to something else (that includes big screen HD TVs as well). LED screens mean longer battery life, plain and simple, as well as cooler temps and substantially lower power usage. There is no difference in how the screen looks to you so only buy a laptop that has an LED display.
Touchscreen – With Windows 8 and its crazy new features, plus the preponderance of tablets, touchscreen is something that is offered on laptops these days, usually at much higher cost. We can't see these sense of this so we'd advise to stick to a mouse/touchpad arrangement.
Processor Cores – Four cores is better than two cores, two cores is better than one. Once you've checked out the CPUs by reading our previous post, you'll know all about these specs anyway. Higher speed often means higher power consumption. Unless you're editing video or recording sound frequently, you don't need anything extreme here.
RAM Slots – The left and right laptops have one open RAM slot. This means that you could add more RAM later on. The middle laptop has both slots full but it has three times the memory of the other two. If you sacrifice some RAM for a lower price, check to see if there is an open slot so you can add more later on.
Optical Drive –  We think we're experts, right? When we saw that the middle laptop, the one with all of the great specs, DID NOT have an optical drive, we were shocked. An optical drive, in case you don't know, is a CD/DVD unit. This laptop, even with all of its delicious specs, does not have one. Make sure you check that the laptop you want has one of these. You can always add an external drive for $20 to $30 but that removes the portability factor. Can you see why you have to make a shopping list AND check the specs before you buy a new laptop?
(Please note that Chromebooks and 'netbooks' do not come with an optical drive. No use looking for one that does, NONE of them do. Chromebooks and netbooks are different beasts completely. We'll do a post on these hybrids later on.)
Built-in Card Reader – Virtually every laptop has a card reader like this. This makes taking the photos from your other mobile devices (phones/cameras) much simpler. Take out the SD/micro SD  card and pop it into your laptop. No wires and no fuss.
Here are more specs to check: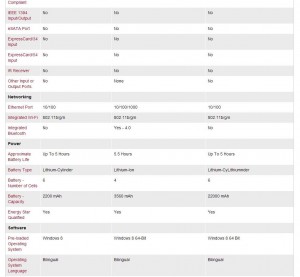 We won't explain all of these since most of them don't mean much to the average buyer. Here are the ones that we think you should look for:
Bluetooth – This addition would make using a Bluetooth earpiece for conversations on Skype very smooth. It's not something we would look for but the middle laptop has 'integrated Bluetooth'. If you use it, you need it. If not, it's not something we'd add to our shopping list.
Approximate Battery Life/Battery- Number of Cells/Battery Capacity – The hours of use are fairly irrelevant since we don't know the criteria used but all three of these have decent times shown. The second part, the number of cells, is more important. If you see a good price, make sure they aren't scrimping on the battery. Dell has recently supplied two cell batteries with their low end laptops. Two cells? That's not only cheap, it's just about criminal since very few people look at this spec. The middle spec reads '4' cells, right? The spec that comes next explains why there are only 4, not 6. The middle laptop is sold with a battery that's over 50% bigger, as far as mAh (milli-amp hours) is concerned. That's a hefty rating, believe us.
Pre-loaded Operating System – All three have Windows 8, of course. The two on the right use Windows 8 64-Bit. What does that mean to you? Basically, it means the two on the right are better laptops. They have a better CPU that can handle the load that comes with the 64-bit version of Windows. The laptop on the left is under-powered and can only manage the 32-bit version. But, and this is important, the laptop on the far right has only 2 Gigs of RAM. Remember that. Windows 64-bit needs/eats/consumes RAM and, even though it's offered with 2 Gigs on the laptop on the right, don't expect it to set any speed records. Your computing will be slow and you'll be very frustrated while you wait for things to happen. As we said earlier, 4 gigs is a minimum these days, 6 or 8 is what you should look for.
We're done! Now you're armed with enough knowledge to make an educated decision when you're in the market for a new laptop. If we've missed something, let us know. If you have questions about anything on this (or any other) topic, make a comment below and we'll answer as quickly as we can. We love comments, questions, suggestions from our readers.
Thanks for reading! Like us on Facebook and you'll have the inside track to our tips and posts: Computers Made Simple on Facebook