Snapchat and Facefeed are two popular and relatively new mobile apps which share a similar purpose: meeting people. No, these aren't replacements for the online dating sites, they're far more casual, less intense and a lot more fun. Initially we were going to do separate posts but since they're more the same than different, we decided to do a comparison. Here we go!
Similarities: 
1. Both Snapchat and Facefeed are available for Android and iOS devices. Facefeed started out as iOS only but now it's available at Google Play for Android.
2. The two apps require a camera, something that WeChat etc. don't. Like Instagram, both of these are image based. They let users display themselves and/or their lives. Facefeed requires a front facing cam, Snapchat can use either front or rear cam.
Differences: 
1. There is no log-in with Facefeed. You show up, give your preferences and you're on your way. Snapchat requires a username and an email address.
2. The camera thing mentioned above. Facefeed cannot use your rear cam, just the one that sees, guess what, your face. Snapchat lets you shoot your own ugly mug or those of your friends.
3. You can keep track of friends/strangers on Snapchat. You can add them to your feed and send messages directly to them. While Facefeed allows you to follow people, you can't directly message someone unless you keep a continuous stream of messages going back and forth. Facefeed is not one-on-one, at least as far as broadcasting messages (snaps) is concerned. It's easy, almost too easy, to lose connections.
4. Facefeed is pics and text on pics only, no video and no art. Snapchat uses still photos, videos as well as art. You have to take a photo or video before you can draw on your screen but most users shoot a pic of a blank ceiling, for example, then draw on it. You can add text and/or your own drawings. Here are a few examples from Snapchat users: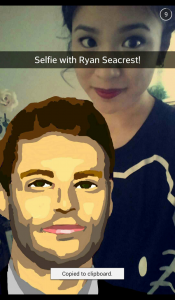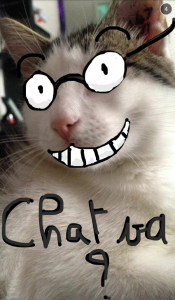 5. Of the two apps, Facefeed is more instantaneous, more current. The feed is always there, sometimes with repetitions but more often than not, fresh every time. Snapchat only shows the current snaps, ones that the people you follow send out. If everyone is busy, you're got nothing to look at.
6. On Facefeed, the stream of faces is your source of contacts. You can't add people from a list of names, you can only send them a message when you see their face on the flow. With Snapchat, there are sites that allow users to share their Snapchat names. Here's a link to one of those places: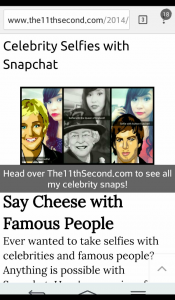 Decisions, decisions: 
Which app is best? We like both but we lean towards Snapchat. It's more fun, has far less of a single's bar atmosphere and it allows you keep in touch with your contacts. Facefeed is frustrating, to be honest. While we're not going to get into instructions for these two, we will warn you to be very careful with your swipes. Swipe the wrong way at the wrong time and your contact is lost, often forever. You can be in the middle of a conversation with a friend and, bam, they're gone. Once you install the app you'll see what we mean. Just read the comments on many of the photos and you'll get an idea of exactly how exasperating Facefeed can be.
One feature that we like on Snapchat is the weekend feeds from various social events. Things like college football games, rock concerts, charity events, conventions, etc. These come automatically, you don't subscribe to them. Watch them or not, it's up to you, but they add a whole other element of fun. At this point they're all from the U.S. but we hope to see more from around the world.
Snapchat also allows video chats, text chats with no photos and, of course, the drawing function. Add both but we think you'll grow to like Snapchat more. Single guys and girls can play around with Facefeed but we think you'll see it's not much different from WeChat's Shake feature. Everything about it is a shot in the dark.
There you have it. A short synopsis of Facefeed and Snapchat. If you have questions or comments, use the comment form below this to share them with us. Alternatively, Like our Facebook page and make a comment there. Here is the link: Computers Made Simple on Facebook.   Thanks for reading!