Trying to maneuver your way around Facebook's privacy settings has always been a problem. Now, with Facebook shooting out more and more ads, it's time to adjust your privacy settings. Here we go:
1. On any Facebook page, click the down arrow icon up on the top right and choose Settings on the drop-down menu: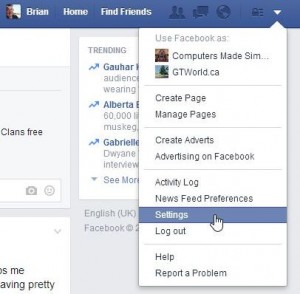 2. The first thing you see if your General settings but we're after Privacy settings. For now,  just review them, then we'll move on to Adverts.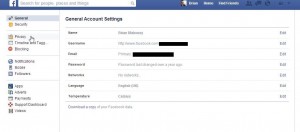 3. While you're here, take a look at your basic privacy settings. Our photo shows our settings. We like to keep things set to 'Friends Only' and suggest that you do the same.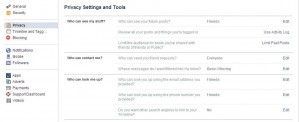 4. Move on to Adverts. Your wording may vary, of course. Adverts is a British term, certainly not one you'd hear in Canada or the U.S.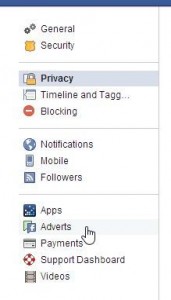 5. The page is divided into three sections. You can edit your preferences in the first two but the last is only for your own education. Read the third one carefully after you've edited the first two sections.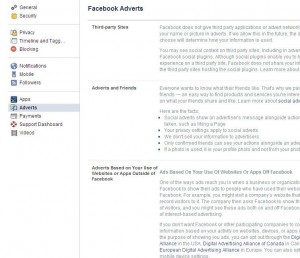 6. The first section describes something that isn't available yet in Canada. The wording for you may be different. Regardless, we've set this up so 'No one' will be able to see our information, even if this feature is enabled at a later date. You should do the same.

7. Facebook blithely tells you that "Everyone wants to know what their friends like". Really? Read the rest of this section carefully. Again, we've got this set to 'No one'. Is there any reason why you would allow Facebook to allow advertisers to use your profile photo? We can't.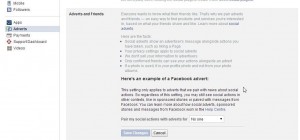 8. Read the last section very carefully. Facebook follows you while you are on their site but they also follow you when you are 'off Facebook'. If you don't agree with this, and we can't see why you would agree to it, opt out through one of the links shown, depending on where you are in the world. There aren't links to any Asian countries here so you might have a hard time opting out if you're not in Canada, the U.S. or Europe. We can't help with that, unfortunately.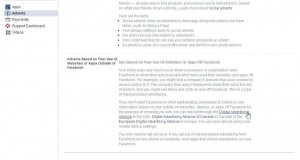 All of this should be straightforward but if it isn't, let us know. Comments and questions are welcome but  Likes on our Facebook page get immediate attention.  Here's the link:
Computers Made Simple on Facebook 
Thanks for reading!