We recently picked up a new laptop for a very good price. Good price or not, we returned the laptop yesterday. Why? Although it was advertised as having Windows 7, this Toshiba 15.6″ laptop came with Windows 8. We use Windows 8 on a few of our desktops but find it impossible to use on a laptop. That's why we returned it.
Out of the box the Toshiba had the old version of Windows 8 installed. Try as we might, we couldn't get it to update itself to the 8.1 version, the one with the old style desktop. Aside from that, the computer was almost six months past its warranty date with Toshiba. Yes it was new but it seems that Toshiba limits its warranty to a one year period which starts when the retail outlet gets the computer. Hmmm, not good if that laptop sat on a shelf for a year and a half. Although the outlet offered a one year warranty of its own, we know how hard it is to get parts for anything that is more than a year old.
This experience made us think about you, our readers, and how you're going to be faced with a dilemma if you're thinking of picking up a new laptop in the next six months. Our suggestion is to wait, if you can, until next spring. Windows 10 will probably be released around April 15, 2015. In the past, Microsoft has offered free or heavily discounted upgrades to their next operating system if you purchase a computer in the weeks immediately prior to the O/S's release date.
Take it from us, you don't want to be stuck with Windows 8 on a laptop. We also don't think that you want a Surface tablet, Microsoft's own hardware product that uses Windows 8. We could buy two or three regular laptops for the price of one Surface Pro and the laptops would come with keyboards. The Surface does not come with one, even though every single ad shows it with a keyboard.
Aside from the free or discounted Windows 10 offering by Microsoft, laptop and computer manufacturers always tune their products for the next O/S. That means that they design the latest products around test versions of Microsoft's latest operating system, even if that system hasn't been released yet. We're sure you've all heard of horrendous upgrade tales from friends who tried to install a new O/S on an old computer. In most cases, it just doesn't work.
If you can, wait. If you can't wait, see if you can pick up a Windows 7 laptop. Dell and other manufacturers still offer some models with the very stable Windows 7. Although the products may be a bit long in the tooth, you'll appreciate using an interface that you know instead of looking at a desktop full of icons.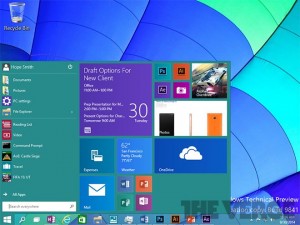 If you want to download the early beta of Windows 10, go here: Windows 10 Beta Download The file you download will be an ISO. You won't be able to do anything with it until you burn it to a DVD (easy) or put it on a flash drive (more complicated). Regardless of how you install this beta, DO NOT use it as your main Operating System. Play with it, get used to how it looks and operates but don't do any real work on it. While these releases are usually stable, there is no guarantee that your data is safe. One glitch and you could lose everything.
For that reason we suggest using a new drive and dual-boot. We'll get into that later in another post but whatever you do, don't install Windows 10 Beta over your old, stable version of Windows.
Thanks for reading. Comments, questions and suggestions are always welcome. Use the form below or Like our Facebook page. Here's the link: