Our posts on WeChat seem to be very popular. If you haven't heard of WeChat (Weixin in China), it's a relatively new and incredibly popular social app for most mobile devices, one that lets you meet people from all over the world. It's fast, fun and free but sometimes, for various reasons, some users get banned by WeChat. They may use the Shake feature too many times or post a rude photo, something like that, and someone has reported them. Here's how to get your account back.
Head over to this url: WeChat Account Recovery
This is what you'll see: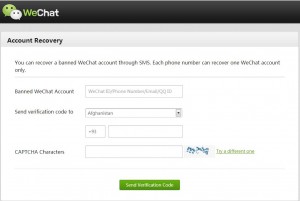 Complete this form, including the phone number where you want the code sent, and click 'Send Verification Code'. With any luck, you'll soon be back cruising the world looking for friends.
TIP: Don't use WeChat as your only tool to meet people. We're baffled by the way some users use WeChat for hours on end as if it is their only link to the outside world. Basically, get a life!
Thanks for reading!
___________________________________
Here's a link that might help us if you are interested in hosting your own blog with Fatcow Hosting. We've signed up to become an affiliate and we make a bit of money if you sign up for hosting via this link: FatCow Hosting Thanks!