There are thousands of Facebook games and apps, most of them are fun, entertaining and relatively safe. Some aren't. Here is an anatomy of one Facebook app that we feel is dangerous and sneaky. Use the details in this post to judge other Facebook apps. Hopefully, you'll be a smarter Facebook user after this.
Here's the scenario. You get a request from one of your friends:

This request looks innocuous enough, right? Just wait till you accept. Let's see what happens then.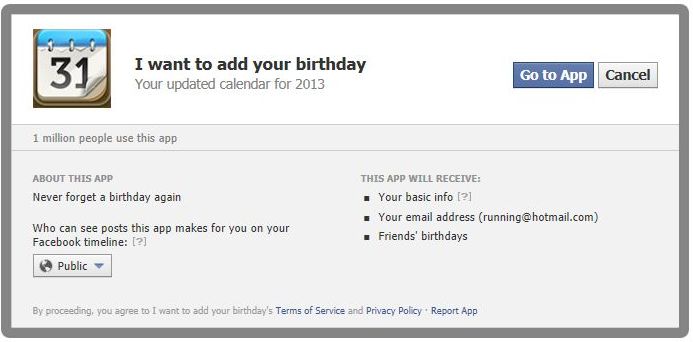 The nastiness begins as soon as you click 'Go to App'. The screen will flash then, all of a sudden, you're not in Kansas (Facebook) anymore.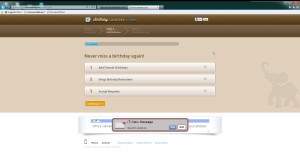 You were on Facebook, right? Suddenly, you're not. Every other app leaves the Facebook name up at the top. This tricky app doesn't. Lots of ads but no way to get back to Facebook. When you see this, you should stop immediately. An app that takes you away from the relative security of Facebook is trying to trick you. Watch out for this.
Read the page carefully. This app will add your friend's birthdays, see the check mark beside number 1? It will also send you birthday reminders, see check number 2. Lastly, it will kindly accept requests on your behalf, check number 3. Conveniently, they're already checked for you. (That was sarcasm, in case you missed it) What do you do now?  Run!
If you click the word Continue, here's what you get: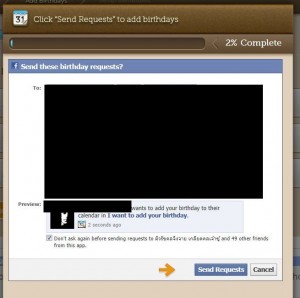 Depending on the number of friends you have, you will get a page like this for every 49 names on your list. If you choose to Cancel this prompt, another 49 names pop up. But wait! What is that check mark down at the bottom? This one:

Do you see how devious all of this is? Do you see how rapidly you'd become very unpopular on Facebook?
We think that you've got the general idea here. This is a pretty sick app, not in a good way. When you come across something like this, warn your friends and immediately delete it from your app list. We'll show you how to do that next time.
Thanks for reading!