---
---
The biggest danger on Facebook isn't spending too much time there, believe us when we say that. The biggest danger is that your profile photo could end up supporting some company halfway across the world without you even knowing about it. While privacy settings in Facebook are important, we think the settings in this post are the most important.
To keep things short and sweet, follow us to the page you want to focus on:
1. From any Facebook page, click on the down arrow to the right of the word 'Home' and choose 'Privacy Settings'. When you get to the next page, look for 'Ads, Apps and Websites'. To the right, click on Edit Settings. That will bring you to this page: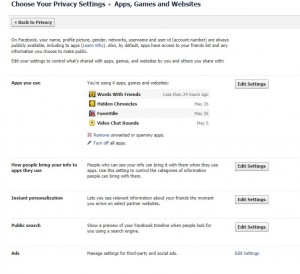 All of these settings are important, don't get us wrong. But we feel the most important one is the last one, Ads. Click on the words 'Edit Settings' on the bottom right. That will bring you here: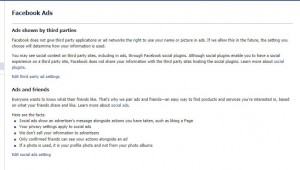 The important words here are: Facebook does not give third party applications or ad networks the right to use your name or picture in ads. If we allow this in the future, the setting you choose will determine how your information is used.
Facebook is telling you that, for now, they don't let other people use your name and photo in ads. For now. If that changes, this is where you can choose to NOT be in those ads…ever. Anyone who chooses to be in those ads is visible anywhere on the Internet on any site that they have liked or commented on. You've seen the little Facebook ads, right? Here is one, just to give you an idea of what we mean: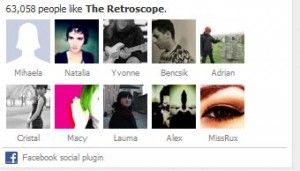 Each of these photos is a direct link to the people shown. See someone that looks interesting (read: cute, sexy, interesting, stalkable)? Well, just click the photo and there you are at her/his Facebook profile. You may be OK with all of this but if you have children, how would you feel about seeing their photos in an ad? We think it's something to protect yourself from.
Look for the words 'Edit third party ad settings' and click them. In the middle, make sure the words 'No one' are there. If they aren't click the black arrow and choose 'No one'. Make sure you click Save Changes next and you're safe.
Click Save Changes and you'll be back to the previous page. Perform the same actions for 'Ads and friends' in order to make sure that your profile pic isn't used in 'social ads'.
You're done. Good for you. You can relax and enjoy the many other non-threatening parts of Facebook. This particular advice is more important for teens (and sub-teens) we think. While you are supposed to be a certain age to join Facebook, everyone knows that many young people have accounts. It seems a bit dangerous to us for these kid's profile photos be be spread all around the 'net. We'll also add that getting to this particular privacy setting sure isn't intuitive. It seems that Facebook might have hidden them, just a guess.
We've discussed the other privacy settings in another post. Read about them here: Facebook privacy settings  We hope you find what you're looking for there. Let us know if you can't figure it out. We'll help.
Thanks for reading!