PLEASE NOTE: This method is no longer valid. Please take the link to our latest update on this topic. Facebook has changed their Timeline editing system. Here is the link: 
Hiding Likes on Facebook – it's back! 
I like many diverse things on Facebook, some of which wouldn't fit in with some of my friend's sensibilities. There is no reason why everything I like has to be open for my friends to see. Here's how to hide these likes from your friends.
TIP:  This only applies to the new Timeline feature of Facebook. If you're still on the old Facebook interface, this doesn't apply to you.
Step One: Navigate to your own profile. Simply click on your name up on the top of your browser window, right beside the little icon which is your profile pic.
Step Two: On the far right of the word Home , you'll see an arrow pointing down. Click it and you'll see Account Settings. Click Account Settings to bring up General Account Settings. Basically, that's your name, your username, email etc.
Step Three: On the left side, under the word facebook , you'll see the words General, Security, Notifications, Apps, Mobile, Payments and Facebook Ads. Go through each of them, if you want, but what we are looking for now is the little blurb at the bottom. This is what it looks like: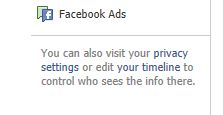 Step Four: Click the word timeline to bring up a non-graphical version of everything on your timeline. Again, you can view these settings page by page. The initial one is  About you. You can edit and show/hide any portion of your information. How? Look for this icon: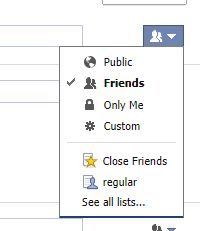 Your icon, if you haven't set it already, will be the globe one. Mine is the two headed friends icon. Here is where you decide what to hide from the public, from your friends or, by using the custom setting, some of your friends.
Step Five: Right beside your name on the upper left, where it says About now, click on the little down arrow to show this menu: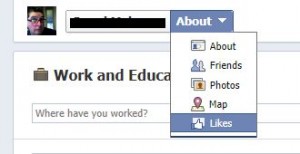 What we're doing now is editing the Likes part of your timeline so click it. Adjust the others according to your personal tastes.
Step Six: Once you click Likes, you'll be presented with a rather blank page, depending on how much you like . The next step involves a hover button. A hover button is hidden unless you hover your mouse over it. Move your mouse around the Favorites section. It's all white and you're looking up on the top right. This is how it looks: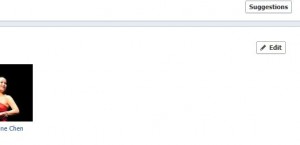 Click the Edit button to, finally, edit your likes.
Step Seven: You're almost there, don't get discouraged. Clicking on the edit button in the previous step brings up an editable page for all of your likes. Clicking on the down arrow to the right of the globe icon, you can hide some, all or none of them. Down near the bottom is the  Other Pages You Like section. This is how it looks: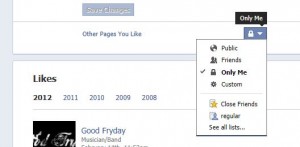 You'll recognize the icon of the globe just to the right of the Other Pages You Like words. This is how you can adjust your settings according to your tastes. As you can see, I hid my page likes from everyone, except myself, of course. You can fine tune this setting to eliminate a few of your friends, too, by setting things up in the Custom section that you see fourth from the top.
There isn't any reason that I can see to share all of the pages that I like. My tastes aren't totally diverse from the norm but maybe I'm a rock musician and I happen to like Celine Dion's Facebook page. How would that go over? I'm sure you can see why someone would want to cover up some of their likes. Now you know how to do it!
Thanks for reading. Questions and comments are welcome.